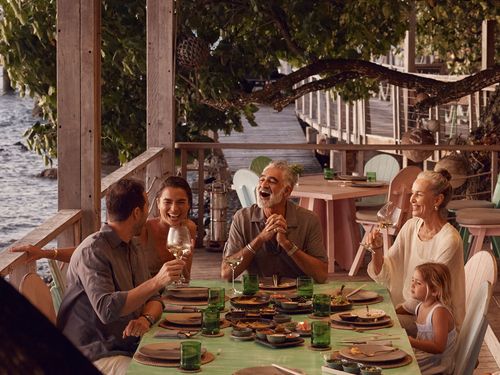 Indulge
Heighten Your Senses With a Taste of Fiji
Setting a new standard in Fijian cuisine, indulge your senses in a place where island grown and locally sourced produce is championed across the resort's three restaurants: Beach Shack, Walker d'Plank and Kokocabana. Supported by a 5.5-acre farm, sustainably harvested seaweed and fresh seasonal seafood, Kokomo's chefs thoughtfully transform local produce into delicious meals, showcasing the best produce for each season.
View Indulge Brochure

Destination Dining
For a one-of-a-kind celebration, Kokomo's chefs will prepare a private picnic or dinner to be enjoyed at one of many breathtaking locations around the island. Watch the sunset from a private table, enjoy a starlight cruise, or venture to a neighbouring island. For larger celebrations, Kokomo can be booked exclusively, allowing you to create treasured memories that will last a lifetime.
The Farm
Supporting the farm to table movement, Kokomo tends a 5.5-acre organic farm, abounding with fresh seasonal produce. Vegetables, herbs, edible flowers, and exotic fruits are cultivated on the island, with a hydroponics garden supplying fresh lettuce, tomatoes, and cucumbers, year-round. Beyond the garden our beehives and hen house provide rich delectable honey and free-range eggs for our guests to enjoy.
Dock To Dish
One of Kokomo's key sustainable seafood programs is Dock to Dish. An initiative based on the reduction of carbon emissions from food miles, our focus is to catch certain local species of fish of the correct size, in the right season. While our emphasis is on pelagic species rather than reef fish, we practice catch and release of all billfish, sharks, and rays, and avoid catching critically endangered species, as well as large territorial species such as Giant Trevally. We have a strict no-take policy of Coral Trout and Groupers during the spawning seasons from June 1st to September 30th.
Experience Dock to Dish firsthand on a Kokomo fishing charter and bring your catch back to island to be prepared fresh for you the next day. All fish caught throughout Kokomo's fishing tours are used by the restaurant, and depending on the time of year, guests can enjoy freshly caught Yellowfin Tuna or Mahi Mahi in the hot summer season and Wahoo in the cooler months.
In addition to year-round Deep-Sea Pakapaka Snapper and Spanish Mackerel, Dock to Dish utilises local seaweeds as a food source. Our Kokomo Marine Biology team forage these 'greens of the sea' from local nearby village communities to support local small-scale fisheries.
Enjoy great local produce on Kokomo, while consciously preserving the ocean.