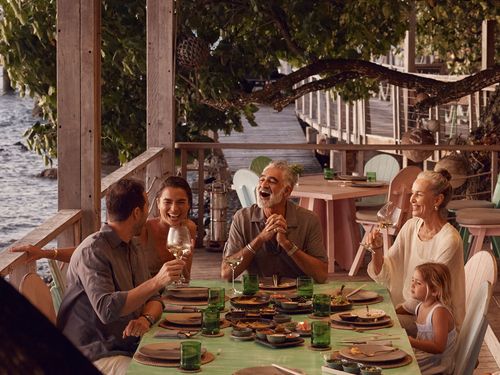 Indulge
Heighten Your Senses With a Taste of Fiji
Setting a new standard in Fijian cuisine, indulge your senses in a place where island grown and locally sourced produce is championed across the resort's three restaurants; Beach Shack, Walker d'Plank and Kokocabana. Supported by a 5.5-acre (2.2-hectare) farm and fresh locally caught seafood, Kokomo's chefs thoughtfully transform local produce into delicious meals, showcasing the best produce for each season.
View Indulge Brochure

Destination Dining
For a one-of-a-kind celebration, Kokomo's chefs will prepare a private picnic or dinner to be enjoyed at one of many breathtaking locations around the island. Watch the sun set from a private table in Kokomo's hilltop yoga shala, take in the ambience from the resort's private wine cellar, or enjoy the peace and serenity of the resort's spa bure. For larger celebrations, Kokomo can be booked exclusively, allowing you to create treasured memories that will last a lifetime.
The Farm
Supporting the farm to table movement, Kokomo tends a 5.5-acre (2.2-hectare) organic farm, abounding with fresh seasonal produce. Vegetables, herbs, edible flowers and exotic fruits are cultivated on the island, with a hydroponics garden supplying fresh lettuce, tomatoes and cucumbers, year round. Our vanilla plantation allows the production of fresh vanilla beans for the pastry kitchen, whilst beyond the gardens, our beehives and hen house, provide a rich delectable honey and free range eggs for our guests to enjoy.
Dock To Dish
In 2018, Kokomo launched the South Pacific chapter of Dock to Dish, a community-supported sustainable fishing venture, committed to restoring the relationship between seafood producers and consumers. An international network of small-scale fishermen, marine biologists and sustainable seafood advocates, Dock to Dish enables our team to preserve important elements of the native culture, whilst furthering our commitment to an environmentally and culturally sustainable sourcing system.