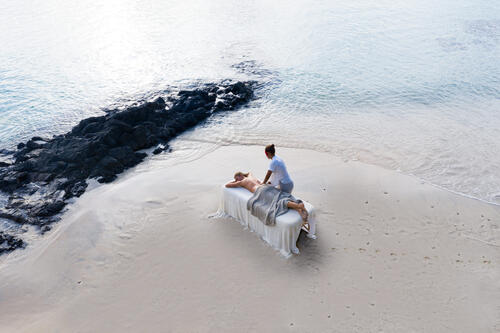 The Healing Powers of Fiji
Leave the world behind and enter a realm where time doesn't exist. Our highly-skilled therapists draw on Fiji's natural elements to help you relax, restore and rejuvenate. With a range of blissful treatments and relaxation practices; this is your place to take a moment before returning to the world completely transformed.

Yaukuve Spa Sanctuary
Awaken The Senses
Surrounded by nature in its most pure form, Kokomo Private Island is the perfect luxury haven for those seeking restoration, rejuvenation and relaxation. Designed to embody a holistic mind, body and spirit experience, we invite you to enjoy an immersion in nature to reset your wellness goals.
View Spa Menu

Wellness
Relax and rejuvenate your senses at the Yaukuve Spa Sanctuary and allow our skilled therapists to tailor a treatment to your needs. Our selection of treatments draw upon the natural elements of Fiji, connecting you with our environment. Enjoy your complimentary 45-minute Pacific Mastery Massage (one per villa or residence per stay) which promises to leave you feeling refreshed and rejuvenated.
View Wellness Brochure

Yoga & Meditation
Awaken your senses with a restorative yoga class or calm your mind with a soothing meditation. Opt for the daily resort session or request a private class in your villa or residence. Our classes are designed to restore balance and create harmony in your body and mind.