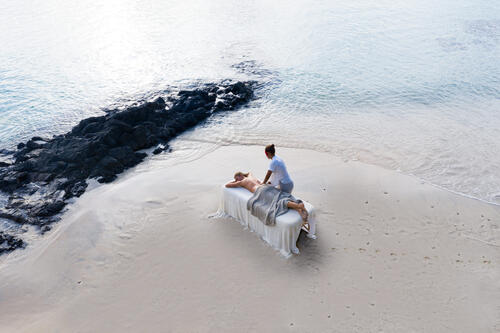 Wellness
The Healing Powers of Fiji
Leave the world behind and enter a realm where time doesn't exist. Our highly skilled therapists draw on Fiji's natural elements to help you relax, restore, and rejuvenate. With a range of blissful treatments and relaxation practices; this is your place to take a moment before returning to the world completely transformed. For a personal experience, treatments, and holistic practices (yoga and meditation) are available in your villa or residence, upon request.

Yaukuve Spa Sanctuary
Awaken The Senses
Designed to connect you to the natural beauty of the island while embracing traditional Fijian nuances, the Yaukuve Spa Sanctuary is nestled in a lush, tropical garden. The relaxation pavilion is located at the heart of the spa and serves as a place to start your journey, transition, and relax between treatments. Complete your experience with a fresh juice, smoothie, or bliss ball in a tranquil environment.
The Yaukuve Spa Sanctuary features five treatment rooms, a wet and dry hammam, hair salon and outdoor relaxation pavilion.
Spoil your senses with a tailored treatment or browse our delectable menu. Treatments harness the luscious Sodashi skincare range and include rejuvenating facial therapies, Pacific Mastery massages, restorative Kokomo journeys, the revival of hands and tired feet, as well as hair care to ensure you leave our sanctuary feeling good and looking incredible.
Yoga, Fitness & Movement
Through our yoga, fitness and movement offering, we've made it easy to disconnect from your schedule and make time for fitness that will reawaken your senses and help you to reconnect with yourself. Relish the benefits of the physical experience and reap the mental and emotional rewards from a little 'you' health time. Whether you plan your stay around an itinerary full of workouts and wellness experiences or whether you're more likely to opt for the occasional yoga class, small changes that positively impact your wellbeing can have a lasting effect. Feel good. Holiday better.