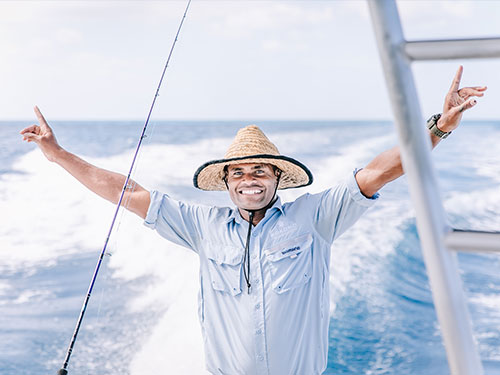 Fishing
A world class experience
A short distance from Kokomo are some of the most fertile and untouched waters Fiji has to offer. Ideally positioned within close proximity to the unspoilt and thriving, Great Astrolabe Reef, Kokomo offers varied, unrivalled and world-class fishing opportunities.
The waters around Kokomo contain a rich variety of pelagic and demersal species, from mackerel to marlin, wahoo and sailfish. To experience the thrills of big game or sport fishing, you need only venture a little further from the resort, to the outer reefs, where large schools of tuna cloud the top of untouched seamounts and blue marlin cruise the deep water off the edge.
Jaga Crossingham
Fishing Expert
A qualified Master Mariner Class 5 Captain, Jaga is globally recognised for his expertise in the field. Having spent over 15 years fishing, diving and exploring the Fijian islands, Jaga's wealth of knowledge and passion for his sport has earned him the reputation as one of the best in the business. Along with his many national records and tournament wins, his global recognition in the field has enabled him to write for multiple publications such as Bluewater Boats and Sport Fishing magazine, International Spearfishing and Freediving News, along with scheduled blogging reports and interviews for the Fijian islands. He is also sponsored by numerous brands including Hatch custom spear guns and B.C. Lures Australia and is a brand ambassador for HECS wetsuits and apparel company.
Featured In
Our Fleet
Kokomo's reef fishing experience involves a short boat ride on board Reel Time to one of the surrounding coral reefs. This locally built 28-foot Islander Center Console is ideal for family or group reef fishing. Powered by a reliable 250hp 4 stroke Yamaha engine, guests of Reel Time can try their hand at local reef fishing while using the latest gear and tackle, or get involved in the local tradition of hand line fishing. Coral Trout, Snapper, Cod, Sea Bream and many more tasty reef species are found in the local reefs.

The pride of our fishing fleet, Kahala is a well-equipped Riviera 4000 Express. With a custom built tower, comfortable teak decking and all the comforts of a luxury game fishing boat, Kahala can seat up to six people, with overnight accommodation for four. This vessel features a state of the art galley, with small cook top stove, microwave, coffee maker, refrigeration units, an icemaker and freezer; and has 80lb Reelax game chair outriggers, shotgun pole, fresh and salt water washdowns, Farmington electronics, chart plotters and sonar, a 2kw transducer and fusion stereo.

The name speaks for itself; this 2801cc Mako was built tough. An offshore hunter that's just as suitable for a fun day cruising with family and friends, this model was imported from the US, and boasts twin 200hp 4 stroke Yamaha engines, matched with the flared bow and deep V for a dry and comfortable ride while at high speed. Mako can accommodate up to seven people with forward and after seating, t-top sun shade, taco outriggers, fresh and saltwater wash downs, stereo and Garmin electronics. Mako is our sport fishing favourite!
Fishing Seasons
May – September

Water temperature range from 23º - 26º Celsius / 73º - 79º Fahrenheit

During the winter months' anglers can expect to experience line burning action from schooling Wahoo and Sailfish that patrol the edges of the reef along the Astrolabe and Solo reefs; mid-sized Yellowfin Tuna that occupy the local reefs; and large Walu and Spanish Mackerel that inhabit the waters around the islands.

October – April

Water temperature range from 26º - 30º Celsius / 79º - 86º Fahrenheit

During the warmer months' anglers can expect to experience the strength and power of large Yellowfin Tuna as they congregate around the seamounts, schools of Mahi-Mahi feeding on Flying Fish and large Blue and Black Marlin in the deep waters around the Kadavu Islands.
Sport fishing species such as Dogtooth Tuna and Giant Trevally can be targeted and found throughout the year; these fish are territorial and we recommend "catch and release" where possible.
Our Equipment
Anglers can rest assured that they have the best chance of securing a once in a lifetime catch while using top of the line tackle and equipment. All boats are loaded with high quality Shimano rods and reels, sold and serviced by Black Pete Marine Australia. We specialise in light to medium tackle (10- 24kg); and focus on our anglers taking home a record or two, along with an experience they will never forget.
Boats are loaded with:
Shimano, Tiagra 30's
Shimano, Tiagra 30W's
Shimano, Tiagra 50W's
Shimano, Tiagra 80W's
Shimano, Saragosa 18,000's
Shimano, Saragosa 25,000's
Shimano, Twin Power 5000's
Shimano, 9000 Beast Master Electrics
All fishing tackle are sourced and supplied from Black Pete Marine Australia.
Catch to Plate
Sustainable Fishing
Catch to Plate
Elevate your dining experience at Kokomo Private Island! Guests are invited to partake in a day of adventure out on the water to sustainably source seafood from our surrounding thriving reefs. On your return, take your catch back to shore, and we will have it transformed into a decadent meal by our chefs.
The ethical sourcing of seafood is reflected in how the produce is prepared, allowing the catch of the day to be the hero. Watch your freshly line-caught dogtooth tuna transform into mouth-watering sashimi, garnished with micro herbs and citrus from our on-island farm. This is an unparalleled sustainable dining experience.
Watch your freshly caught dogtooth tuna transform into a mouth-watering sashimi