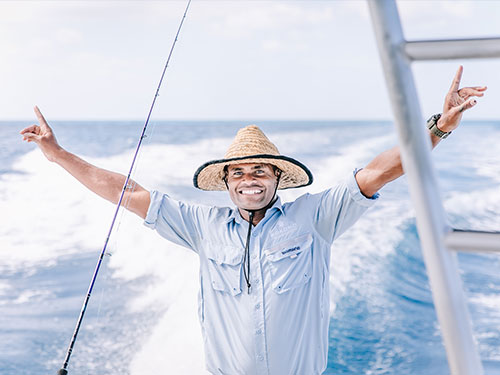 Fishing
A short distance from Kokomo is some of the most fertile and untouched waters within Fiji. Ideally positioned within proximity to the unspoilt and thriving Great Astrolabe Reef, Kokomo offers varied, unrivalled, and world-class fishing opportunities.
The waters around Kokomo contain a rich variety of pelagic and demersal species, from mackerel to marlin, wahoo and sailfish. To experience the thrills of big game or sport fishing, you need only venture a little further from the resort to the outer reefs, where large schools of tuna cloud the top of untouched seamounts and blue marlin cruise the deep water off the edge.
Jaga Crossingham
Fishing Expert
A qualified Master Mariner Class 5 Captain, Jaga Crossingham is renowned for his expertise in the field. With over 15 years' experience fishing, diving, and exploring the Fijian islands, Jaga's wealth of knowledge and passion for fishing has earned him the reputation as one of the best in the business. Along with many national records and tournament wins, Jaga has written for Bluewater Magazine, International Spearfishing and Freediving News.
Drawn to the ocean from an early age, Jaga comes from a lineage of seafaring experts, his enthusiasm for the sport a direct influence from his grandfather. Hailing from the mid north coast of NSW, Jaga spent most of his youth exploring Australian waters in small boats, chasing mackerel and marlin at every opportunity. He arduously studied the local area to determine the local hotspots, where he mastered various fishing techniques and gained years of valuable experience.
Fishing Seasons
May – September

Water temperature range from 23º - 26º Celsius / 73º - 79º Fahrenheit

During the winter months, anglers will experience line-burning action from schooling wahoo and sailfish that patrol the edges of the Astrolabe and Solo reefs, mid-sized Yellowfin Tuna that occupy the local reefs and large Walu and Spanish Mackerel that inhabit the waters around the islands.

October – April

Water temperature range from 26º - 30º Celsius / 79º - 86º Fahrenheit

During the warmer months, anglers can expect the strength and power of large Yellowfin Tuna as they congregate around the seamounts, schools of Mahi-Mahi feeding on flying fish and large Blue and Black Marlin in the deep waters around the Kadavu Islands.
Year Round
Sport fishing species such as Dogtooth Tuna and Giant Trevally can be targeted and found throughout the year. These fish are territorial, and we recommend practicing "catch and release".
Catch to Plate
Guests are invited to partake in a day of adventure out on the water to sustainably source seafood from our surrounding thriving reefs. On your return, take your catch back to shore, and we will have it transformed into a decadent meal by our chefs.
The ethical sourcing of seafood is reflected in how the produce is prepared, allowing your catch to be the hero of the dish. Watch your freshly caught fish transform into mouth-watering seafood, delicately garnished with micro herbs and citrus from our on-island farm. This is an exceptional and sustainable dining experience.