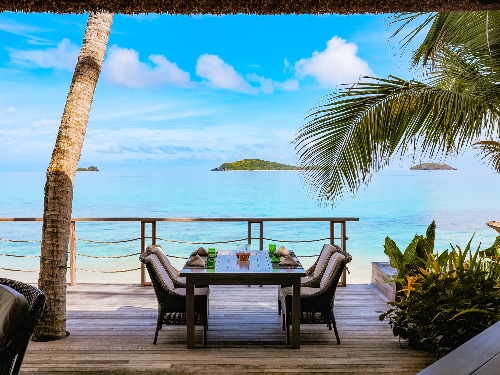 Beach Shack
During the evening, the restaurant will showcase the skills of the resort's international chefs, with an interplay of Mediterranean and Fijian cusine, inspired by fresh, sustainably sourced, local produce. Dishes are shareplate style and range from fresh pastas and risottos, to aged cuts of meat, grilled prawns, locally caught mud crabs and whole baked fish.
Beach Grill
For a relaxed lunch by the ocean, pull up a table at the Beach Grill. The light menu offers a choice of fresh seasonal salads, poke, chilled soups, ceviche, skewers, and gourmet burgers, changing daily to offer variety and showcase the best seasonal produce.
Sunset Bar
Adding to the ambience at Beach Shack, is Kokomo's new sunken cocktail bar, perfect for reconnecting with friends and family. Overlooking the ocean, the Sunset Bar offers a selection of mocktails and cocktails.
Wine Cellar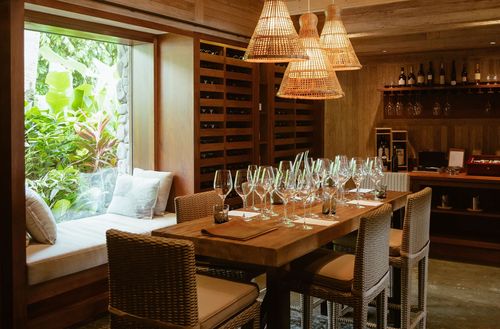 For a private wine tasting for up to 10 guests, Kokomo's new Wine Cellar is the perfect addition to the resort. Take in the collection of international wines, as you enjoy fresh produce and locally caught seafood, thoughtfully prepared by our chefs, and paired with the perfect wine by our sommelier.
Guided Wine Tasting Experience $150pp
Let our Sommelier guide you through an immersive tasting of some of the world's great wine expressions. During the session you will taste 1 x sparkling, 2 x whites and 2 x reds without knowing what the wines you are tasting are, commonly known as a 'Blind Tasting'. Over the course of an hour and half you will learn techniques to better assess and identify wine, which you can take with you forever.