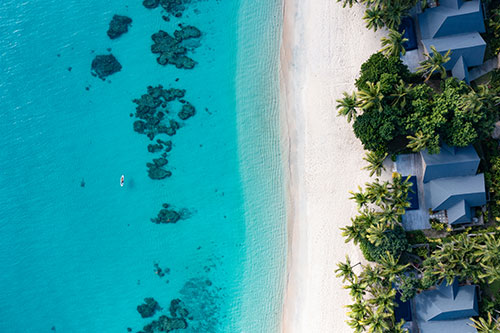 Discover
Fiji's Most Exclusive Private Island Resort
Kokomo Private Island fuses unscripted luxury with the bounty of space and the generosity of time to do as much (or as little) as your holiday heart desires. Cradled by the Great Astrolabe Reef, our stunning unspoiled and naturally immaculate island is more than a backdrop, it's your home for as long as you choose to linger.
Our reef provides a virtual portal into an unparalleled underwater world, while our land experiences offer a paradise for adventure seekers, a restorative sanctuary for families and an enticing retreat for honeymooners.
Kokomo Private Island promises a sensation of escape, where incredible memories are made in an idyllic, secluded location. Our island home will absorb your idea of luxury, whatever that might look like for you

Location
Journey to Kokomo Private Island in our private Twin Otter seaplane or helicopter. Located just 45 minutes flight from Nadi International Airport or 25 minutes south of Suva, the transit between the mainland and Kokomo offers sweeping views of crystal clear water and powder fine stretches of sand. It's a breathtaking starter of what's to come.
Getting to Kokomo
A Passionate Endeavour By Lang Walker AO
Renowned Australian property developer Lang Walker AO has lived and breathed place making for over 50 years. Now, together with his family, Lang has created Kokomo Private Island Fiji; an exclusive, serenity filled space, famous for its affable and welcoming Fijian hospitality. This world class stay beloved by so many global travellers is somewhere to meet, to celebrate, to laugh, to relax, to enjoy seamless hospitality and to squeeze the last remaining minutes from each resplendent sunset - with those you love.
Kokomo's Story

Fijian Nuances Meet Modern Design
Exquisitely created with sustainable design principles and traditional Fijian nuances at the fore, Kokomo Private Island's aesthetic boasts a refined and fresh take on Pacific design. Beyond unique and innovative luxury trappings, the interiors found throughout the island blend modern and authentic Fijian design, to create a comfortable island ambience. Pioneering with design and genuine craftmanship, our Fijian Kokomo family can be felt right throughout our exclusive island.