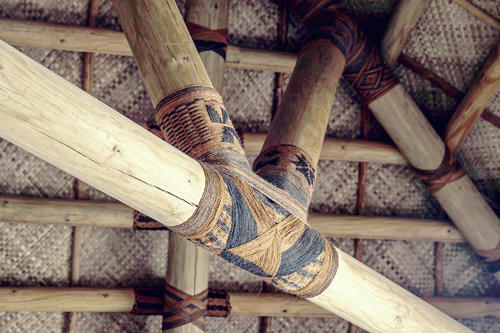 Fijian Nuances MeetModern Design
Beyond our island's outstanding cuisine, beautiful décor, extensive activities, and luxurious spa, Kokomo Private Island excels in sustainability and ecological sensitivity. And while Kokomo exemplifies Walker's commitment to cutting edge design and industry leading environmental standards, this adventure in paradise represents a true collaboration and fusion of creative minds.
Hardwood cinnamon trees sourced from nearby Mago Island (owned by Mel Gibson) were repurposed as furniture, locally sourced mahogany was used in the decks, windows, doors and louvres, while plantation pines were used in the roof trusses. In the villas, woven matting and exposed beams are lashed together with magi magi, in the traditional Fijian fashion. Complementing the build, lead interior designer, Philip Garner was meticulous in the selection of materials and textures used to furnish the resort. Garner chose to avoid the use of metal, focusing instead on repurposing recycled timber and using sustainably sourced cotton and linen for the upholstery.