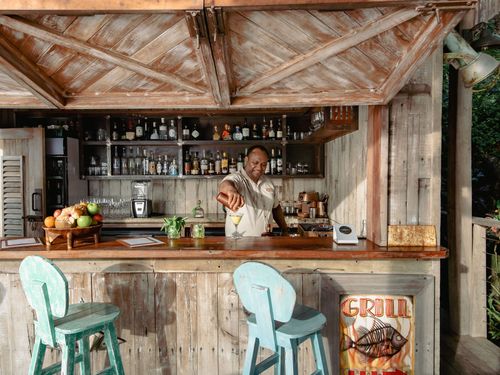 Walker D'Plank
Tucked within a sheltered cove, beyond the arrival jetty, Walker d'Plank brings Asian-style street food to life in Fiji. Walk down the plank, and find a casual restaurant and bar positioned over the water, offering a unique setting for cocktails, lunch, and dinner daily.
Walker D'Plank
Head Chef, Caroline Oakley cooks with heart and soul at Walker d'Plank. The daily changing menu of sushi and sashimi, steamed dumplings and freshly made Vietnamese spring rolls, is complemented by light salads, noodle dishes, curries, and stir-fries. Aromatics from the garden add depth and flavour, with the charcoal grill letting the locally caught seafood speak for itself.
Dine with a view of the open plan kitchen or choose a private table on one of the tiered platforms, adding privacy and a touch of romance to your meal. A new dining extension at the western end of the Plank provides the perfect setting for small groups.
Bar
Offering an amazing sunset view, Walker D'Plank is the ultimate place for a romantic rendezvous. Pull up a stool overlooking the water and enjoy the pastel palettes of the setting sun. Ask for your favourite classic cocktail or allow our bartenders to surprise you with a taste of Fiji.
She loves seafood and likes to chat with guests to find out their tastes and then surprise them. "I cook from my heart," she told me before serving up a meal bursting with fresh local flavours.

By Janetta Mackay