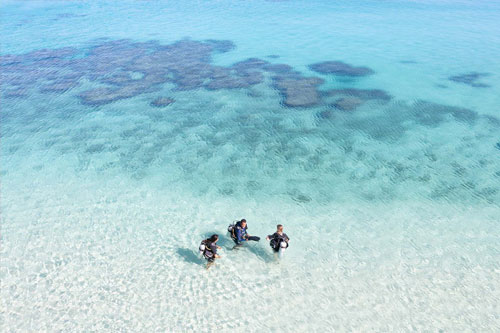 Diving
Explore Our Underwater World
Discover the underwater wonders of the world's fourth largest reef, on an unparalleled underwater adventure. Extending for over 100km (62 miles), the Great Astrolabe Reef is the ultimate playground for dive enthusiasts. Located on the north east of the Kadavu group of islands, Kokomo offers exclusivity to dive sites that are not frequented by other resorts. Come face to face with manta rays, reef sharks, turtles and more as you explore our underwater world.
FAQs
1. When is the best time of year to dive?
Fiji is a year round dive destination, with something to see every day of the year in the Great Astrolabe Reef and Solo Reef.
2. What is the water temperature like?
The water temperature ranges from 24˚C (75˚F) in the cooler months (July – October), reaching up to 30˚C (86˚F) over summer (December – February).
3. When is the best time of year for visibility?
Visibility averages between 15-20m (50-65ft) year-round, increasing to 30m (98ft) between July-October, when the water temperature is cooler.
4. When is the best time of year for seeing manta rays?
Manta Rays are most likely to be encountered between April and August.
5. Do I need to bring my own gear?
We have everything you need on-site, including a wide selection of short and long wetsuits, as well as fins.
6. How many dive boats are there?
We have a fleet of four dive boats which can seat between 8 to 12 divers, depending on the vessel.
7. How long should I wait to fly after scuba diving?
We recommend waiting at least 12 hours after a single tank dive or 18 hours after two or more tank dives, prior to flying on any aircraft.
8. Do I need to be certified (have a diving license)?
No experience is necessary to dive on Kokomo. Take part in a two hour introductory Discover Scuba Diver course or if you are staying for 4 days or more, obtain your full PADI Open Water diver license.
9. What is a PADI Discovery Scuba Dive?
While not a scuba certification course, PADI's Discover Scuba Dive is a quick and easy introduction to exploring the underwater world. While no prior experience is necessary, you must be at least 10 years old and must be in reasonable physical health.
10. What is the minimum age to participate Scuba Diving at Kokomo?
Children aged 8 and above can learn to dive in the safety of the pool, while those aged 10 and above can begin diving in Kokomo's house reef. All age restrictions have been set by PADI based on research relating to lung development. Please refer to the 'Certifications' section for further details of age and depth limits.
11. How can I sign up for a dive lesson?
You can start your course today on PADI's eLearning site. Click here to sign up, in advance of your stay. (link to the eLearning site for Kokomo)
12. What is PADI eLearning?
Electronic learning (eLearning) is the delivery of education, using your mobile device or web browser. PADI eLearning allows you to begin your dive education at your convenience. You can start your eLearning here (link to the eLearning site for Kokomo) in advance of your stay.
13. What is the maximum number of dives a day I can do?
For your safety, we permit a maximum of three dives per day. Unfortunately right now we do not have an operational recompression chamber in Fiji and we wish to keep everyone as safe as physically possible whilst having a great time.
14. Is there a recompression chamber in Fiji?
While there is a recompression chamber in Fiji, it is currently not operational. For these reasons we permit a maximum of three dives per day and follow extremely conservative safety guidelines. The nearest recompression chamber would be in Australia or New Zealand.
15. Is there anything I should do before getting to the island?
If you are thinking of doing any scuba diving (introductory or tank dives) during your stay, please fill out the latest PADI Medical Form below and email it to our reservations team (). You may need to obtain clearance from a doctor before travelling to Kokomo.
16. Do I need Dive Insurance?
We would always recommend purchasing dive insurance, if you are planning on diving during your stay.