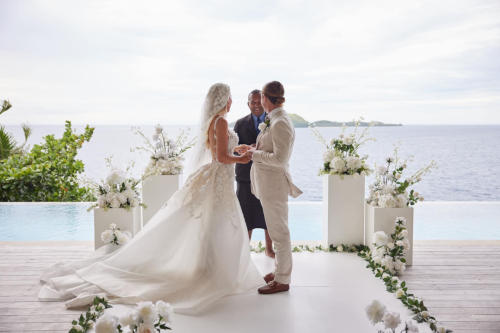 Kokomo Weddings
An idyllic location for the perfect wedding
Pristine reefs, white sand beaches and lush tropical gardens set the scene for unrivalled celebrations on Kokomo Private Island. Create treasured memories that will last a lifetime, at a destination where privacy is paramount, service is superior and you are our priority.
Whether you are eloping with your loved one, renewing your vows, or celebrating with your extended friends and family, our experienced event planners will assist you in selecting the perfect location to complement your vision for the day.

Kokomo Venues
Exchange vows in an intimate and breathtaking location. Walk down the aisle with your toes in the sand or stand beneath our lush tropical palms, listening to the serenading sounds of Kokomo's choir. For absolute privacy, escape to a nearby island for a secluded beachside ceremony, or be captivated by panoramic ocean views in one of our luxurious hilltop residences.
Ceremony
Reception
Services
Kokomo's dedicated team have extensive experience creating and delivering bespoke celebrations. From a romantic dinner for two served under the stars, to extravagant event set-ups for up to 120 guests, allow our team to take care of the finer details, as you enjoy your one-of-a-kind celebration.