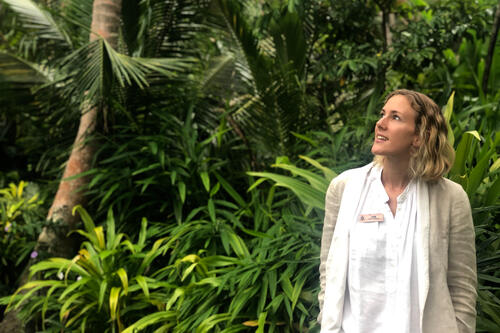 Kim Campbell
Kim Campbell, our resident health practitioner, draws upon her expertise in various natural therapies, including nutrition, iridology, herbal medicine and flower essences.
Kim's expert consultations take a holistic approach to your health, ensuring all factors including physical, mental, emotional and spiritual are considered for complete wellbeing. Kim also supports guests participating in one of our wellness journeys to produce healthy cuisine utilising ingredients harvested from our 5.5-acre organic fruit, vegetable and herb gardens. This seasonal Kokomo cuisine is fresh, wholesome, organic and balanced.
Nutritional Medicine
Your body will tell you a lot about your wellbeing and this consultation dives into your health from a nutritional aspect. Here, Kim will look at any physical signs and symptoms that may suggest specific nutritional deficiencies within the body, tailoring nutritional meal plans to provide the optimal requirements to enhance your energy levels and increase your vitality.
Western Herbal Medicine
Made exclusively from plants, herbal medicine is the oldest and most widely utilised system of medicine in the world. Kim understands that our body systems are interconnected, and in this consultation, she will discuss your health concerns with a holistic approach to determine the most suitable herbal remedy to accompany you during your stay.
Kokomo Flower Essences
Flower essences work on an energetic level to address underlying emotions, release unwanted patterns and to attract what is right for you. This consultation will focus on your emotional wellbeing to determine the most suitable flower for you to gain peace, joy or clarity during your stay.
Iridology
Your eyes offer a glimpse into your health. In this consultation, your iris will be examined using a specific iris torch to determine how your body heals.