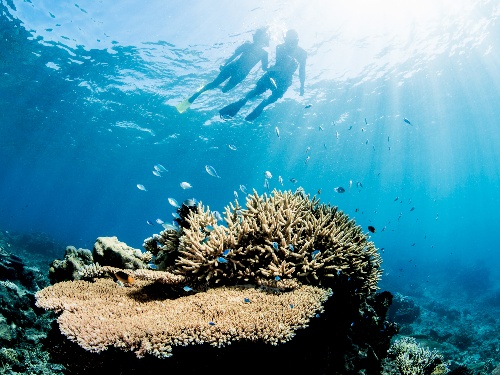 Snorkelling
Explore our underwater world
Explore the underwater wonders of the Great Astrolabe Reef. Snorkel directly off the beach on Kokomo's East Beach or journey by speedboat to the outer reef. Teeming with life, our reefs are home to turtles, reef sharks, manta rays, dolphins and an endless array of fish and corals. Grab your flippers and a mask from Baywatch, and jump in.

Scheduled Snorkel Lesson
8:15AM - 8:45AM Daily
Start your morning with a guided snorkel lesson off Kokomo's West Beach. After meeting your guide at Baywatch, receive a short briefing on how to use your equipment safely. In water deep enough to stand, practice basic skills, before going on a brief snorkel with your guide.
Scheduled Inner Reef Snorkel
10:30AM - 12:00PM Daily
Experience the beauty of our inner reef on a scheduled morning snorkel. Departing on a glass bottom boat, you will have the opportunity to view marine life from above and below the water. Join our team on a guided snorkel, or continue to view the marine life from the comfort of the boat.
Scheduled Outer Reef Snorkel
3:00PM - 5:00PM Daily
Journey to the outer reef on a scheduled afternoon snorkel. Glide along the surface, marvelling at hard and soft corals, colourful parrotfish and elegant angelfish. breath in and dive deep, admiring the marine life up close, before returning again to the surface.
Sunset Or Night Snorkel
90 Minutes
Join one of our experienced guides as we enter the sea at sunset. Observe the marine life as darkness descends, before turning on your underwater troche to light up the corals and fish below. A completely different experience to snorkelling during the day, this is a great way to observe different fish species who are active at night.