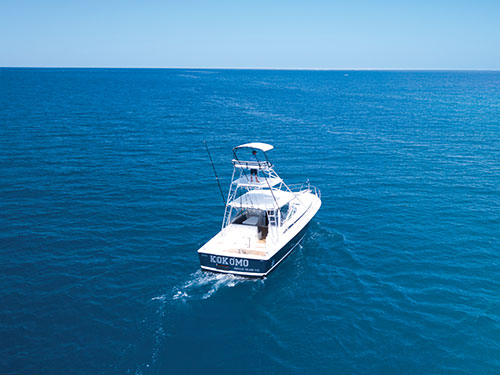 Our Fleet
Kokomo's opulent fleet of vessels ensures that your fishing, sailing, or boating expeditions will be as enjoyable as they are triumphant. Delight in a tour of our inner reefs, savor a luxurious cruise with friends and family, or take your adventurous self on an exhilarating game fishing venture. Whatever your preference, Kokomo has a magnificent vessel to make your expedition an extraordinary one.
Kadua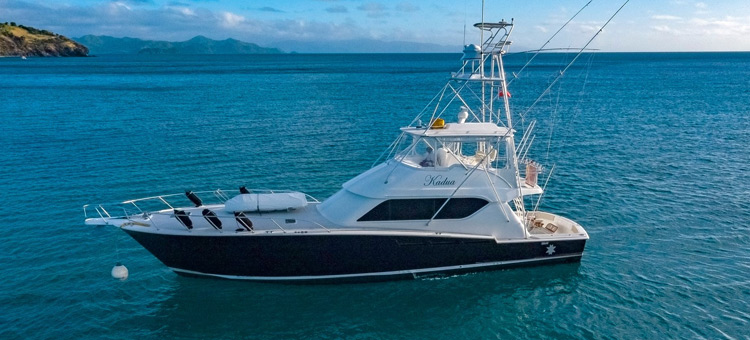 Experience the ultimate fishing adventure on Kadua, the largest sportfishing boat of her kind in the Fijian Islands. This stunning 63-foot Hatteras is equipped with top-of-the-line Garmin electronics, including 2 KW transducers, side scanners, night vision FLIR cameras, weather radars, and live feed chart plotters, ensuring that you have all the latest technology at your fingertips to catch that prized marlin. The spacious cockpit features a 130lb game chair and triple spreaders Rupp outriggers, while the interior boasts a luxurious three-state room layout with air conditioning, three private bathrooms, and a full galley and lounge. Powered by twin 1300HP Caterpillar engines, Kadua offers the perfect vessel to maximize your day, night, or weekend on the water.
Katoa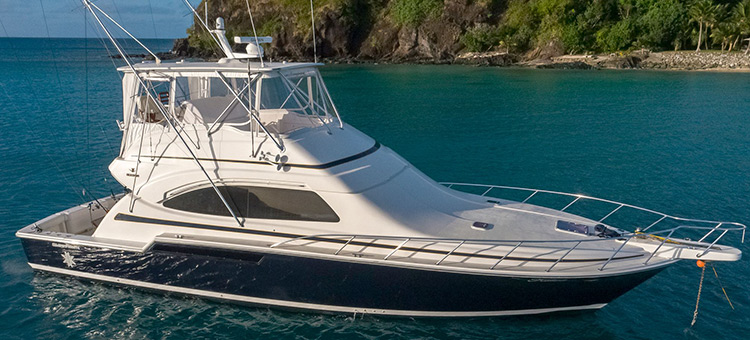 Katoa, a magnificent 51-foot Bertram flybridge, is fully equipped with the latest high-tech Garmin electronics to enhance your fishing experience. From 2KW transducers and radars to FLIR cameras, side scanners, and live chart plotters, you'll have everything you need to catch the big one. With a spacious cockpit that includes a 130lb game chair and triple spreader Rupp outriggers, Katoa is perfect for the serious fisherman. The luxurious interior features a three-state room layout with air conditioning throughout, a spacious galley, and two private bathrooms. Whether you're a group of 4-6 anglers or adventure seekers, Katoa is ideal for day trips or overnight exploration.
Kahala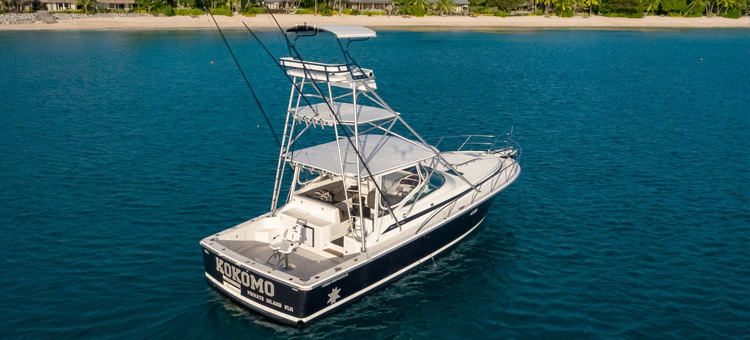 Step aboard Kahala, the Riviera 4000 express with a custom-built tuna tower, and experience the ultimate in comfort while out on the water. With twin 350HP Caterpillar engines, Kahala is the perfect choice for those looking to indulge in the thrill of big game fishing on a pocket game boat.
Equipped with the latest gear and equipment, you can rest assured that you'll have everything you need for a magical day on the water.
Reeltime
Hop on board Reeltime, the locally built 28-foot islander center console, perfect for small group excursions, GT fishing, or light tackle inshore fishing. Equipped with a reliable 250HP 4stroke Yamaha outboard engine, you can try your hand at local reef or sport fishing using top-quality gear and technology. Reeltime is ideally set up for quick fishing trips around the neighboring reefs and islands, making it the perfect vessel to explore the waters.
Mako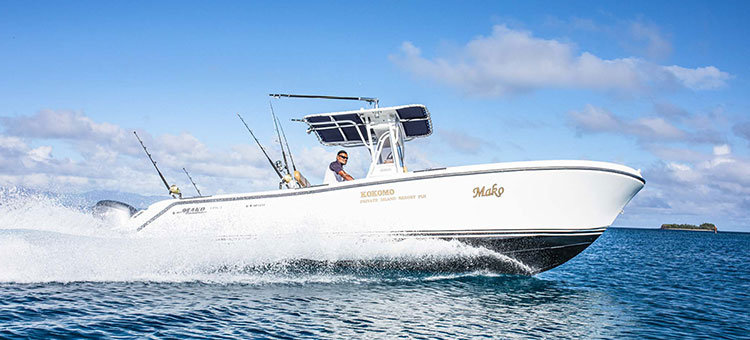 With its tough build and imported from the US, the 2801 Mako is a force to reckon with. Boasting twin 200HP Yamaha 4 stroke outboard engines and a flared bow and deep V, Mako offers a dry and comfortable ride at speed. With forward and aft seating, a t-top sunshade, fresh and salt water wash downs, stereo, and Garmin electronics, Mako can easily accommodate up to 7 people. It is also ideally set up for that quick surf trip when the waves are good, making it the perfect vessel for adventure seekers.