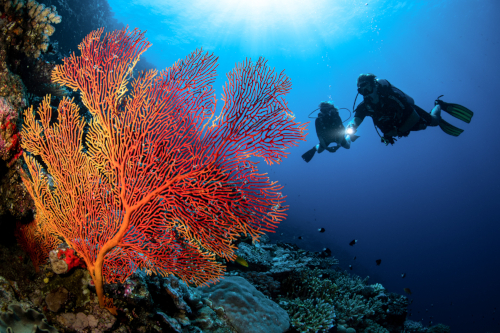 Certified Diving
The Great Astrolabe Reef is one of Fiji's largest continuous barrier reef systems, extending for over 100km from Ono to Kadavu. Divers interested in exploring the Great Astrolabe Reef or Solo Reef, will have the choice of over 30 unique dive sites (subject to prevailing weather conditions), each showcasing a fantastic variety of passageways, swim throughs, walls, caves and caverns.
Whilst Fiji is known for being the Soft Coral Capital of the World, the Great Astrolabe Reef is renowned for its hard coral, with large sections of soft corals extending along the steeper walls and passageways in and out of the reef system. 60 locally managed marine reserves together boast more than 1,000 species of fish, 200 species of corals and a thriving reef manta population. Healthy populations of green turtles and whitetip reef sharks, can also be seen across all sites inside and outside the reef.
Our scheduled boat dives depart daily at 9:00am or 3:00pm. Set a goal for your dive and allow our certified dive instructors to tailor each dive to your experience level, ensuring that you are able to explore our underwater world at your own pace, free from distractions. For an extraordinary experience, meet your dive instructor on West Beach for a night dive on our house reef. Watch as the world comes to life under the glow of your dive torch. See nocturnal organisms emerge under the cover of darkness, keeping your eyes peeled for crustaceans, baby reef sharks and luminescent plankton.
If conditions permit, advanced divers can venture a little further out to the beautiful Solo Reef. Strong currents allow the soft corals to thrive and flourish along the deep walls that Solo has to offer.