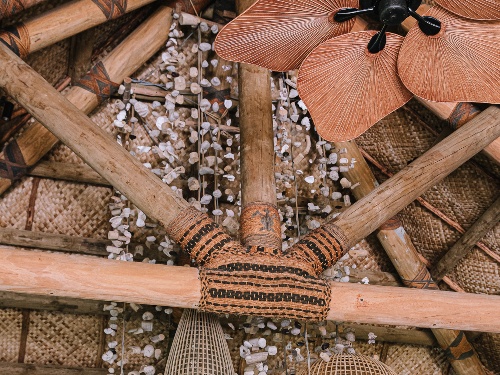 Sustainable Design
Renowned Australian property developer, Lang Walker AO, has lived and breathed place making for over 50 years. To bring to life his vision of 'an island paradise unlike any other', required a true collaboration and fusion of creative minds. A venture straight from the hearts of the Walker family, Kokomo exemplifies Walker's commitment to cutting-edge design and industry-leading environmental standards.
Head Architect, Keith Lambert, worked alongside local architect; Conway Beg and local structural engineers; Vijay Krishnan Engineered Designs, to ensure Kokomo succeeded in its intended vision, and delivered efficient building design that maximised the usable and functional space. Along with ensuring natural ventilation and energy efficiency, the team was tasked with sourcing sustainable building materials; local plantation timbers and stone from surrounding islands, to unify traditional and contemporary design.
Hardwood cinnamon trees sourced from nearby Mago Island (owned by Mel Gibson) were repurposed as furniture, locally sourced mahogany was used in the decks, windows, doors and louvres, while plantation pines were used in the roof trusses. In the villas, woven matting and exposed beams are lashed together with magi magi, in the traditional Fijian fashion. Complementing the build, lead interior designer, Philip Garner was meticulous in the selection of materials and textures used to furnish the resort. Garner chose to avoid the use of metal, focusing instead on repurposing recycled timber and using sustainable sourced cotton and linen for the upholstery.