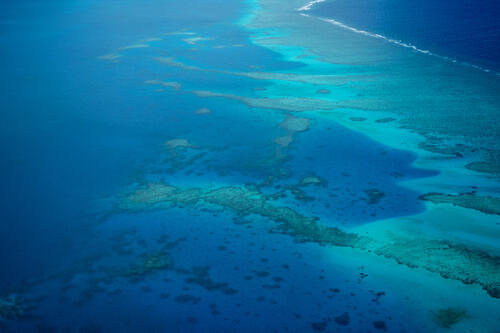 Kokomo Private Island maintains a holistic approach to sustainability, in a conscious effort to protect and preserve the island and its surrounds for many years to come. Under the guidance of our resident Marine Biologist, Kokomo has created and implemented sustainable practices across the resort, and have partnered with an array of globally accredited programmes, whose aim to preserve the marine ecosystem, to ensure it continues to thrive.

The Kokomo Acoustic Manta Tagging Project
Kokomo began collaborating with the Manta Trust in 2017. The Manta Trust is a global organisation that aims to preserve and protect Manta Rays which are classified as "Vulnerable" under the International Union for the Conservation of Nature (IUCN) Red List.
This activity involves photographing the individual spot patterns on the manta's bellies which is similar to a birth mark and can identify each individual manta ray. Since 2017, Kokomo has helped identify and record data on over 40 Manta Rays, and helped increase the size of the Manta Trust Fiji Database by more than 20%. In 2018 alone, Kokomo identified 22 new mantas for the Manta Trust Database.
In 2019, Kokomo is launching the Acoustic Tagging Project in collaboration with the Manta Trust, which is the first manta tagging project in Fiji and first acoustic tagging project in the South Pacific. These tags are attached to the dorsal (back fin) and collect data about the locations and times Manta Rays appear.
Collecting data on Manta Rays helps give estimations of population dynamics, trends and distributions. These conservation efforts made by Kokomo are all in support of the United Nations Sustainable Development Goals primarily focussing on Goal 14 - promoting the sustainable use and protection of life underwater.