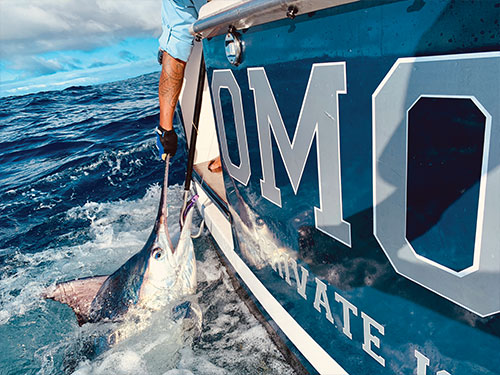 Game Fishing
A haven for big Bluewater gamefish
Travelling in comfort and style on board our luxury Riviera 4000 Express, the surrounding waters of the Kadavu Group of islands hold numerous seamounts, deep trenches and FADs, FADs are Fish Aggravating Device's that are placed in certain areas of interest and anchored on the bottom to create a food chain that attracts pelagic species and holds them in a certain area in an effort to create a haven for big Bluewater gamefish, such as Yellowfin Tuna, large Wahoo, Mahi-Mahi, Sailfish, Blue and Black Marlin and Short Bill Spearfish, all of which can all be encountered within a short distance from the island. Please note we do practice catch and release on all billfish species, but do enjoy a fresh sashimi of Mahi-Mahi or some Tuna.
Pricing for Game Fishing
Vessel
Price
Reel Time
$700USD
Half day
Kahala
$2,000USD
Half day
Kahala
$3,500USD
Full day
All rates are quoted in US dollars and exclusive of government taxes.